Group days out
For 2020 we are offering great deals to locals who want a great day out with their friends or work colleagues.
By coming out with us you are supporting local businesses and you are supporting the environmental initiatives we are part of.
If some of your team are working remotely then this is a great way to spend some time together. These are also great options for a Christmas function.
The days out you see here are ones that we have run and people have loved. If your group wants to do something different then we can help – just call us on 09 837 4130 to have a chat and get a price.
You can see the details of the vehicles that you can charter for your group here as well.
Kumeu Wine and Cheese Tour
Spend the afternoon with us discovering the wines of the Kumeu Region. Visit 3 great wineries for tastings and have a delicious vineyard platter at the final one. The day out includes:
Tastings at 3 wineries
Vineyard platter at Westbrook winery
Transport and guide from Auckland
Click here to find out more
$115 per person (minimum 6)
Auckland Craft Beer Tour + Lunch
We will do the driving for your group to discover some 'new brews' and have a great afternoon out. We visit 3 breweries and include lunch at Hallertau Brewery. The day out includes:
Lunch at Hallertau Brewery
Tastings at 3 boutique breweries
Transport and guide from Auckland
Click here to find out more
$145 per person (minimum 10)
Hobbiton Movie Set Tour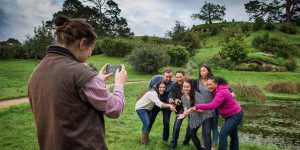 Spend the day out with your group visiting Hobbiton Movie Set. We take you and your group to Hobbiton and back again from Auckland. We have kept it simple so we can keep the price down. The day out includes:
Tour of Hobbiton Movie Set
Drink in the Green Dragon Inn
Transport and guide from Auckland
Click here to find out more
$145 per person (minimum 10)
Hobbiton and Good George Brewery Day Out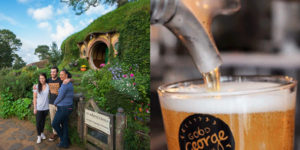 Have lunch and a tour of the Hobbiton Movie Set followed by a tour and pizza at the Good George Brewery in Hamilton that make the beer for Hobbiton. The day out includes:
Lunch and a tour at Hobbiton
Tour of the Good George Brewery and pizza and a beer
Transport and guide from Auckland
Click here to find out more
$195 per person (minimum 10)
Matakana Wine Tour + Lunch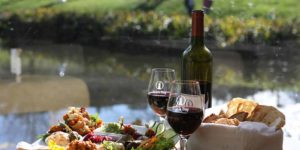 Explore the Matakana region with your group. We visit 2 wineries, a honey centre, a sculpture park and a chocolate maker. We also have lunch at Brick Bay. The day out includes:
Tastings at 2 wineries
Visit the Warkworth Honey Centre
Lunch and sculpture walk at Brick Bay
Chocolate tasting at Chocolate Brown
Transport and guide from Auckland
Click here to find out more
$185 per person (minimum 6)
Craft Beer and Wine + Lunch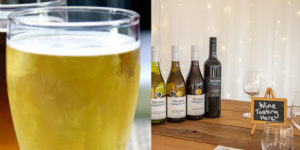 Explore the Kumeu region with your team. We start with a Brewery lunch and tasting at Hallertau and follow it with visits to 2 wineries for tastings. The day out includes:
Lunch and beer tasting at Hallertau Brewery
Tastings at 2 locally owned vineyards
Transport and guide from Auckland
Click here to find out more
$145 per person (minimum 10)
Clay Target Shooting and Brewery Tasting + Lunch
Have a great time shooting clay targets followed by lunch and a beer tasting at Hallertau Brewery. The day out includes:
Clay target shooting
Lunch and tasting at Hallertau Brewery
Transport and guide from Auckland
Click here to find out more
$150 per person (minimum 10)
Why travel with us
We are a carbonZero rated company
Locally owned
Modern comfortable vehicles
Great guides
Flexible options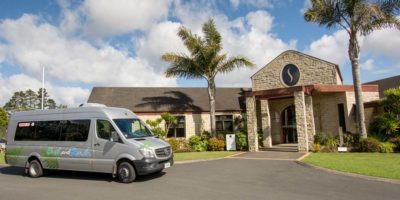 Explore sustainably with us