All tours are covered by the Bush and Beach
'Book with Confidence COVID Guarantee'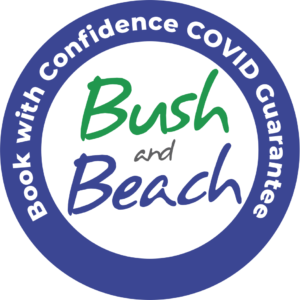 100% REFUND GUARANTEE
– If your travel plans are disrupted due to a COVID issues then we will gladly reschedule your tour or refund your fare in full.
YOUR SAFETY IS PARAMOUNT
– We do not fill our vehicles beyond 75% capacity (unless it is one private "travel bubble")
– All touch surfaces are disinfected daily
– Air-conditioning filters are sprayed with disinfectant regularly
– Masks and Hand Sanitiser available in every vehicle
STAFF PROCEDURES
– Any staff displaying any  symptoms remain at home until they are clear of symptoms and have a negative Rapid Antigin Test
To cancel or amend your booking, please email our reservations team via info@bushandbeach.co.nz
If your enquiry involves a booking within the next 24 hours, please reach out to us on +64 9 837 4130 during business hours. We are open every day, 6.00am – 9pm NZST.
We look forward to looking after you on a tour soon.
Bush and Beach are registered as a COVID Ready business meaning that we are operating and aligned with the New Zealand Ministry of Health COVID Tour Operator Guidelines developed by Tourism Industry Aotearoa.