Bush and Beach run regular tours to Matakana region which you can find here. If you want something a little different then we can organise a private tour to suit you. Matakana is famed for its fine wine, arts and delicious range of food options. To organise your tour just contact us to discuss your interests, below are some of the many options available.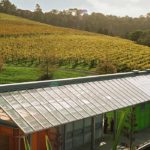 Matakana wines
The Matakana area is only 40 minutes North of Auckland city centre and is home to some small boutique wineries. The gentle rolling hills and clay soils in the region give rise to some interesting Bordeaux blends and locally grown Pinot Gris is often a favourite. Many of the plantings were done in the 1990's and the regions lack of spring frosts and long warm autumns can work to the vineyards advantage. Brick Bay vineyard for example is tiny (only 5 hectares) but they manage to produce 6 varietals including Petit Verdot and Cabernet Franc. Heron's Flight specialise in Italian varietals such as Dolcetto and Sangiovese while you can try some French inspired reds at Runner Duck Estate. Matakana Estate has a wide variety in a beautiful setting. We can organise tours in this region and vary them depending on your interests. Simply contact us to find out more.
Matakana arts
The Matakana area is home to many types of arts, there are sculptures at both Brick Bay and the Sculptorium  and fine art galleries such as The Vivian. In the region is also the iconic Morris and James pottery which runs daily tours to show how they make their amazing pottery.