Coast & Rainforest Walking day tour
This full day tour is for lovers of nature and walking. Your experienced local nature guide will take you on a range of rainforest,  beach and clifftop walks. The black sand beaches and rainforest of West Auckland  are unique in New Zealand and this tour is a great way to experience the best they have to offer.
After pick up from your Auckland city centre hotel we have a short (30min) drive to the Arataki Visitor Centre – gateway to the coastal rainforest. Enjoy breathtaking panoramic views over the rainforest back to the city and across to Auckland's southern harbour.  The visitors centre is also home to some traditional Māori carvings and your guide will talk about them and explain their significance for the area.
Your eco-tour includes a guided walk in an area of stunning rainforest, home to our unique trees and plants which have developed separately from the rest of the world for millions of years. Your experienced guide will explain about the local plants and animals as you stroll through the forest. Your guide will give you insights into how Māori would have used the native plants for food and medicine. During the day you will also visit one of our iconic Kauri trees.
Next your guide will find a scenic location for you to enjoy a picnic lunch (You get to choose what you have from a local bakery!). After lunch we walk the clifftop tracks with stunning views along the coast and out across the Tasman Sea.
During the day we go to an awe-inspiring west coast beach where you can stroll along the soft black sand beach and watch the surf waves crashing in.
As well as keeping you entertained and informed, our guides will make sure you have plenty of opportunities to ask questions and make sure there are lots of photo opportunities. We have been running tours in this area for over 39 years so you will be being looked after by the local experts. We alter the order we do things during the day to suit the tides and local conditions on the day.
"Excellent in every way!" "We all really enjoyed the day!" Viator review 2016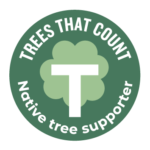 When you book on line you have the option to contribute to our sustainability commitment by donating $5 which will get a native tree planted on your behalf. We are working with Trees That Count and their community-based planting projects to donate native trees to be planted in Auckland. (Bush and Beach will match your donation, which means every $5 donation from you equals a tree planted in Auckland.)