Piha and its iconic black sand beach is one of the most famous areas of Auckland. Lion rock sits proudly in the middle of the beach and the backdrop is the natural sub tropical temperate rainforest of the Waitakere Ranges. Bush and Beach have been running guided tours to Piha for 37 years and below you will find some extra information about Piha and its history.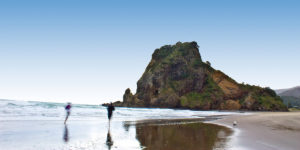 A brief history of Piha
Piha was originally a Māori settlement, settled by Māori from Te Kawerau a Maki and the name 'Piha' comes from the original name for the rock now known as Lion Rock. 'Te Piha' means the divided ripple at the bow of the canoe which the waves breaking around the rock were likened to.
Europeans discovered the large Kauri trees and set up a mill in Piha which ran until the 1920's. Since then Piha has become more of a holiday destination with many holiday homes 'baches' being built. These days Piha has a permanent population of around 1,000 people (including a couple of Bush and Beach guides) and that number goes up considerably in summer time.
Piha geology
Piha has a famous black sand beach, this sand is the eroded remains of volcanic rock mainly from the Taupo volcanic zone and swept out to the Tasman Sea by the Waikato river. The sand is a titanomagnetite with a high iron content. Our tour guides carry magnets to show the high level of metal in the ironsands. If you are on one of our tours to the west coast beaches ask your guide to try this out. The whole Waitakere Ranges were formed by a 20 million year old volcano and Lion rock (or Te Piha) is the remains of a volcanic vent.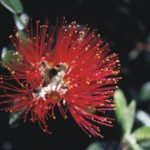 The coastal forest around Piha has a wide variety of trees, the Pohutukawa (flower pictured above) is also known as 'New Zealand's Christmas Tree' as it gets these bright red flowers around Christmas time. Young Kauri trees are starting to come back around Piha with some examples over 100 years old now.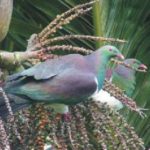 Piha is home to many native new Zealand birds such as the Keruru pictured above. Bush and Beach do pest control work in the Piha area to try and encourage more native birds back. Our guided nature walks will be looking out for birds such as Fantails (Piwakawka), Tui and the Keruru.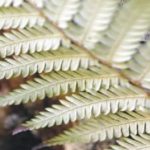 The silver fern is an icon of New Zealand being seen on the jerseys of our national sports teams such as The All Blacks. Maori called it 'Ponga' and the scientific name is 'Cyathea dealbata' and it only occurs naturally in New Zealand. The valleys and streams around Piha are an ideal location for them to grow, our guides will show you how to spot them and give you a close up look at one as well.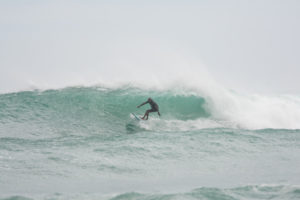 Piha's Surfing fame
Piha beach is renowned for great surfing and it was at Piha in 1958 that two Californian surf lifesavers (Bing Copeland and Rick Stoner) introduced modern surfing to New Zealand when they brought their Malibu boards and surfed across the face of the waves. Many surf competitions are held at Piha and there are several Surf Lifesaving organisations in Piha one of which Bush and Beach help to sponsor.
Filming around Piha
Locations such as Lion rock and the black sand beaches at Piha have appeared in many local and international TV series and adverts. The international Power Rangers TV series uses Piha as does the Shanara Chronicles series. The Australian TV series 800 words used Piha as one of its locations and Piha beach even stood in as Normandy beach in the Tom Selleck 'Ike: Countdown to D-Day' movie!

Piha tours
Every afternoon Bush and Beach run a tour out to Piha called the 'Wilderness Experience' which visits the beach and the rainforest as well as a local visitors centre. Our 'Coast and Rainforest' tour will also include a visit to Piha.