Rotorua to Auckland via Hobbiton Movie Set
This trip from Rotorua to Auckland includes the Hobbiton movie set tour. Departing from Rotorua at 8am, this is a wonderful way to get to Auckland and include a magical journey through Middle-earth to the Hobbiton Movie Set from "The Lord of the Rings" and "The Hobbit" films.
On arrival at Shire's Rest you embark on your Hobbiton movie set tour. This location is the largest "green set" in the world and the only part of the set remaining in New Zealand.
A highlight of the tour is the (New from 1st December) opportunity to go inside a Hobbit home. You will have the chance to explore inside a Hobbit home! For example – try out a hobbit sized bed, sit at the dining table and check out the amazing detail that has gone into this creation.
Before your buffet lunch feast in the Party Marquee (which is included in the price) enjoy a complimentary ale, cider or ginger beer in the Green Dragon Inn. After lunch we'll give you a $10 souvenir voucher to spend at the Hobbiton gift shop before we continue on to Auckland.
Following this we have a sumptuous lunchtime feast in the Party Marquee.
After lunch we drive north through lush Waikato dairy farms and over the Bombay Hills before arriving in Auckland at approximately 3.45pm.
You will be transferred to your Auckland inner-city accommodation.
As this is a one way tour, we do anticipate that all clients will be travelling with luggage and our vehicles allow for this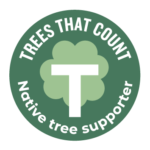 When you book on line you have the option to contribute to our sustainability commitment by donating $5 which will get a native tree planted on your behalf. We are working with Trees That Count and their community-based planting projects to donate native trees to be planted in Auckland. (Bush and Beach will match your donation, which means every $5 donation from you equals a native tree planted in Auckland.)