Lion Rock at Piha Beach

Lion Rock is one of Auckland's best known natural landmarks. It sits on the black sand beach of Piha and was so named by Europeans because looking at it from the South it has the profile of a lion lying down – much like a Sphinx.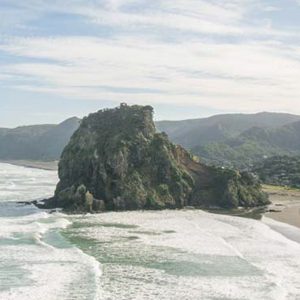 Māori background
Of course the local Māori people of Te Kawerau a Maki didn't know what a lion was as there were none of these in Aotearoa (New Zealand)! They called the rock 'Te Piha' which referred to the pattern of the waves breaking around the front of the rock. This was much like the waves breaking around the prow of their waka (canoes). The top of Te Piha had a defensive pa site known as Whakaari. On the very top of there is evidence of defensive terraces and food storage pits.
Geology
Lion rock is the eroded remains of a volcanic vent that would have erupted around 15-16 million years ago. The Waitakere Ranges are volcanic in origin and Lion Rock was one of a series of vents that runs up what is now the west coast of Auckland.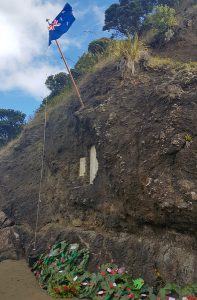 War Memorial
There are several plaques at the base of Lion Rock, the largest is a marble plaque that was unveiled in 1919. This is a Roll of Honour to men who went from the Piha State Sawmill to WW1. There is also a smaller WW2 plaque. Every year on Anzac day (25th April) there is a ceremony at the base of Lion Rock where the local community lay wreaths at the base of the Lion.
We visit Piha beach every afternoon on our Wilderness Experience tour