New tour to Hobbiton and the Good George Brewery
Bush and Beach have teamed up with Hobbiton Movie Set and Good George Brewing Hamilton to offer a day trip to 2 gems of the Waikato on this small group tour from Auckland. we have called it the Hobbiton and Hops tour.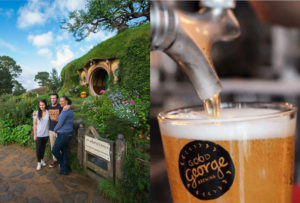 The Good George Brewery make the beer for the Green Dragon at Hobbiton so this is a great chance to visit Hobbiton and then have a tour of the brewery that makes the beer for them.
The tour of the brewery includes a tasting and a pizza as well.